Trailer Saver TSLB2H air ride hitch
The TSLB2H air suspension 5th wheel hitch was originally designed for Medium Duty Trucks (MDT). It also works very well in class 8 conversions. Its low profile design has an operating height with air of 11" that makes it perfect for medium duty truck applications. Most of the trucks that use this hitch already have an air supply. We simply plumb into the existing air line to give a source of air. The included paddle control valve and air gauge is normally installed in the cab.
We can install it for you or just sell you the hitch. Everything that is needed for the installation is provided except the bolts.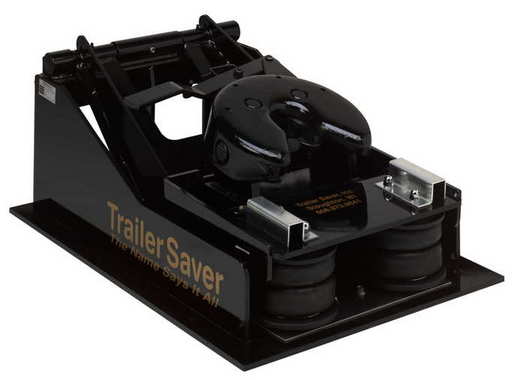 If you see a Medium Duty Truck with an air hitch, chances are that it is a TrailerSaver. If you look at a Heavy Duty Truck or class 8 conversion, chances are even better that it is a TrailerSaver air ride hitch.
Our standard configuration is for trailers up to 5,000 pounds of pin weight and up to 32,000 pounds of trailer weight.
The standard TSLB2H is $3106.00 + Shipping
We offer a third air bag kit for up to 7,500 pounds of pin weight.
Click here to contact us by E-mail
It is also available with a gooseneck option .