32k Low Profile
The 32kLP 5th wheel trailer hitch is a bolt down operation featuring the Holland/Binkley head. Heavy duty trucks (HDT) need a heavy duty and low profile 5th wheel hitch and if you decide that you don't want an air ride hitch, this is it. The 32kLP fifth wheel RV hitch is rated for up to 8,000 pounds of pin weight and up to a 32,000 pound trailer. It has a fixed height of 8". Compare this to the 30k Reese 5th wheel hitch for obvious quality differences.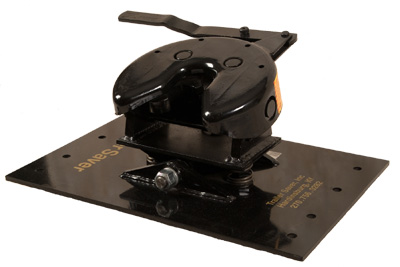 This trailer hitch will work on class 8 conversions. Freightliner, Kenworth, Mack, Peterbilt, and Volvo are just some of the road tractor conversions we have seen. There are also several instances where we can use this on the class 6 and 7 Medium Duty Truck market. Frame height is often the determining factor on which hitch that we use.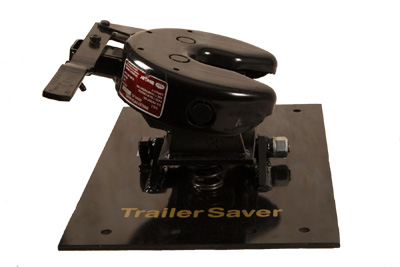 On this hitch, we had a 3/8" sheet of steel laser cut into a piece that was 16" by 24" and had 8 holes 5/8" in diameter cut at the same time. The holes match the TSLB2H pattern so if a person upgrades in the future, some of the holes will match. We then weld 2 pieces of laser cut steel to the base plate for our pivot point. The same size pieces are welded to the base of a Holland Binkley head. DOM tubing goes through all these pieces to give us a wider bearing point. This is the lowest that we could make this RV hitch and still have it articulate side to side.
The 32k Low Profile model is $1295 + shipping

To contact us by email click here.